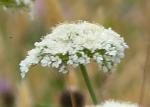 Description
Part of the water dropwort carrot family this is a medium sized white flower which blooms from mid June, after the Pignut has gone. Hairless and smooth stemmed, it is easily mistaken for other umber flowers but is given away by its slender upper pinnate leaves. The flowers form a tight cluster which, when setting seed in August, forms a tight cluster of seeds similar in appearance to cork, hence the name.
Habitat
Tolerating both damp and dry conditions this plant is a native perennial and usually found in hay meadows or grazed pastures.
More often found in Somerset, Dorset and Hampshire it can occur in other areas and grows abundantly once established.
Sowing
The seed should be sown in the Autumn in either dry or damp acidic soils and once established will become quite abundant.
450 seeds/gramme