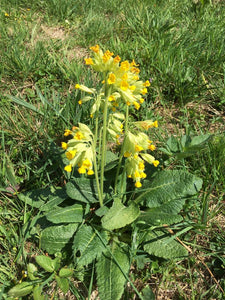 Cowslip,
Primula veris
1g=300seed approx.
This early yellow flower blooms in April and May. The Cowslip prefers alkaline soils but will grow in acidic soils but may cross pollinate with the native primrose and eventually die out. This can be avoided by sowing in the middle of a lawn or meadow. Its flowers are a welcome sign that the summer is on its way. They are often seen on road verges and scattered through ancient meadows.
Growing tips: sow early autumn directly into grass or soil.
sowseeds in a tray of moist sand, place in a bag and leave on a windowsill about 4 weeks at about 15 to 20

°

Then place the tray in the coldest part of your fridge for 6 weeks between - 4 and + 4

°

C .
sow out in the spring or in a tray and prick out.